Today is Father's Day and I would like to wish all Dads a very Happy Father's Day.
Though my dad passed on last year, I still miss him alot. I would like to tell my Day how much he meant to me. No words to say how much I appreciate him, how much I admire him, how much he had done for me. I love you Dad.
My dad would love to eat this loaf with butter, jam and coffee. When he was still around, I have not learn how to bake bread, and now when he is gone, he has no chance to taste the bread that I baked. He used to see me baking kueh lapis using a hand mixer and he told me he want to get me a Kenwood Mixer when he had save enough money so that I don't have to stand long hours holding the hand mixer to mix the batter. So one day he gave me money and told me to get one. I will always treasure this mixer and it brings back many happy memories.
Taste so good with home made blueberry jam.
Hokkaido Milk Loaf (Tangzhong Method) ~ 北海道牛乳 面包 (汤种法)
Recipe Source: fiona @ bakingscorner
Recipe Tangzhong Method
25gm bread flour
125gm water
* Mix the flour and water with a whisk to combine and break the lumps. Then cook over low medium fire , stirring along the way till it becomes thick and turn into a paste. This will only takes probably 2 mins..or if you have a thermometer, when the cooked mixture has reached 65C, it can be removed from heat. This will be the starter. Let it cool down to room temperature before using. This starter can also be kept in the fridge for 48 hrs, let it thaw to room temperature before using.
Bread recipe
makes one loaf in a 11cmx11cmx22cm tin
270gm bread flour
45gm sugar
1tsp salt
1 tbsp milk powder
6gm instant yeast
1 large egg, whisked
30gm whipping cream
27gm milk
90gm of the above starter
25gm unsalted butter, slightly softened
Method:
1. Combine bread flour, sugar, salt, milk powder, yeast with a fork or whisk and attach the dough hook to the electric mixer. Add in the dough starter, egg, cream and milk slowly with mixer running on low speed till it becomes a dough. Continue beating for about 5 mins with the mixer and add in the butter and beat for another 15mins till smooth. Remove from mixer bowl and let it proof till it doubles its size.
2. Remove to a lightly floured surface and divide the dough into 3 portions. Shape it round and let rest for 10 mins, covered.
3. Roll each dough into oval shape using a rolling pin. Fold 1/3 from top edge to the middle and fold 1/3 from the bottom edge to the middle. Turn the dough over and roll it long again with the rolling pin. Using your hands, roll the dough into a cycliner shape or like swiss roll and place it in the loaf tins. Repeat with the remaining 2 loaves.
4. Let the shaped doughs proof for another 45mins or almost double its size. Bake in a preheated oven at 180C for 35mins. Remove from oven , wait for several mins and remove the bread from pan and let it cool completely on the wire rack.
* I sprinkled some Sunflower Seeds & Black Sesame Seeds to the dough before baking.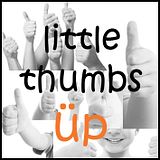 I am submitting this post to the event Little Thumbs Up (June 2014 Event: Butter) organised by Zoe (Bake for Happy Kids) and Mui Mui (My Little Favourite DIY) and hosted by Jozelyn Ng (Spice Up My Kitchen)