I have wanted to bake this quite sometimes back but always put it on hold. Since there is promotion for the Nutella 1 kg special packaging, therefore I took this opportunity to purchase a bottle to bake this nutty chocolatie Nutella Tarts. My sister is a chocolate lover and I am sure she will like this bake too. I am using the crust from my previous tart bake and I have been using this crust for most of my tarts bake and I do love the texture of it. The crust bake can refer to
here

.
The Filling:
100g Nutella
140g bittersweet chocolate, finely chopped
100g unsalted butter
1 large egg, at room temperature, stired with a fork
1 large egg yolks, at room temperature, stirred with a fork
1 tbsp sugar
125g hazelnuts toasted and cut into large pieces
- Preheat oven to 190 degrees.
- Spread Nutella evenly over the bottom of the crust and set it aside while you make the ganache.
- Melt the chocolate and butter in separate bowls
- Using a small whisk, stir the egg into the chocolate, stirring gently gently. Little by little, stir in the egg yolks, then the sugar. Lastly stir in the warm melted butter.
- Pour the ganache over the Nutella in the tart shell.
- Scatter the toasted hazlenuts over the top.
- Bake the tart for 11 minutes - that should be just enough time to turn the top of the tart dull, like the top of the cake.
- Remove the Tart from the oven and let it cool for at least 20 minutes.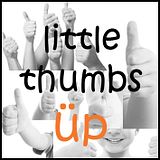 I am submitting this post to the event Little Thumbs Up (June 2014 Event: Butter) organised by Zoe (Bake for Happy Kids) and Mui Mui (My Little Favourite DIY) and hosted by Jozelyn Ng (Spice Up My Kitchen)